Sila Introduces Titan Silicon™, Nano-Composite Silicon Engineered for Mass Scale to Power a 20% Increase in Vehicle Range and Dramatically Reduce Charge Time
---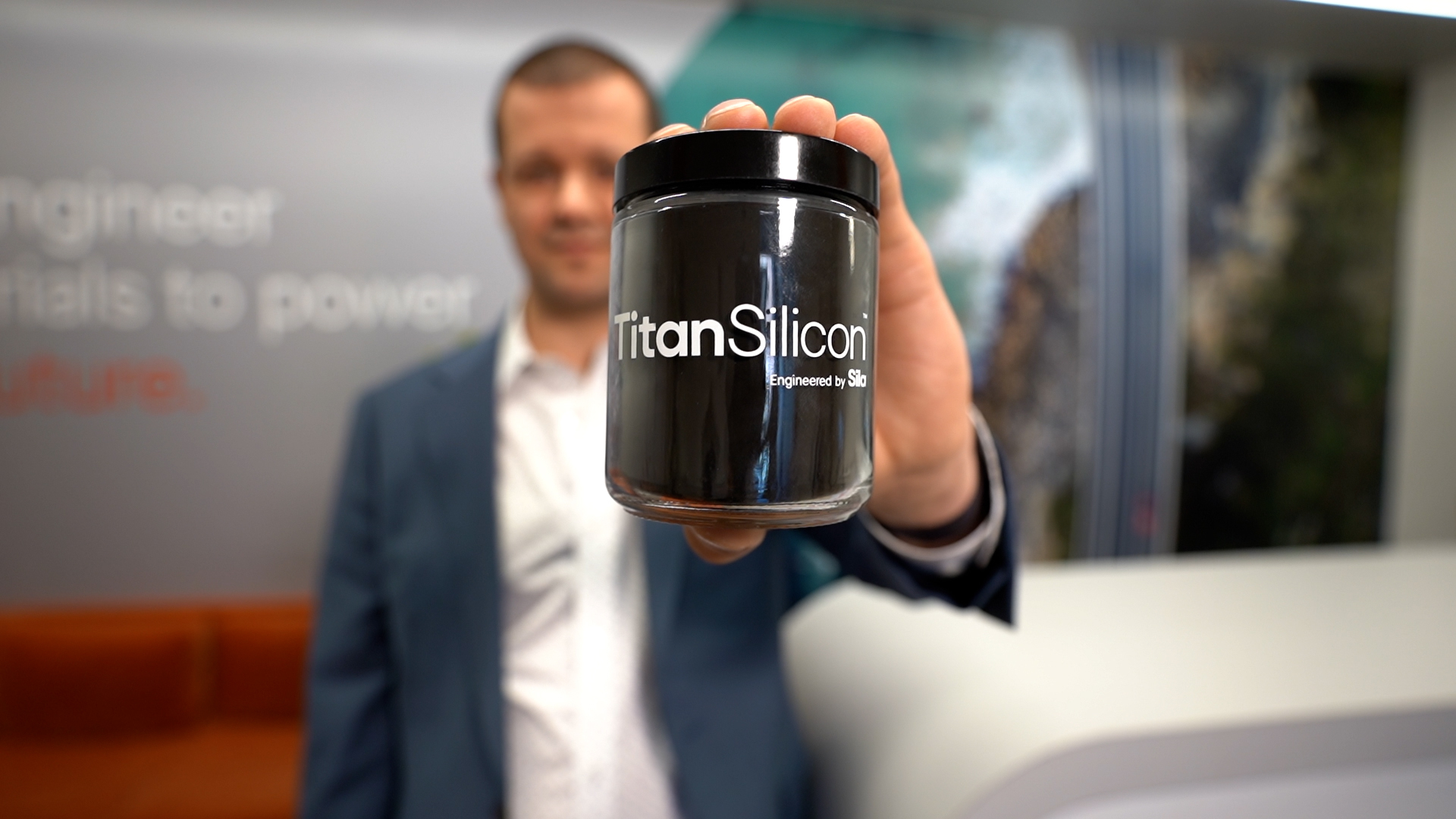 High-performance anode material addresses key consumer considerations for electric vehicle adoption
ALAMEDA, CA, April 4, 2023 – Sila, a next-generation battery materials company, today announced the availability of its high-performance nano-composite silicon (NCS) anode, Titan Silicon. Titan Silicon is the first market-proven, safe, and clean full graphite anode replacement engineered for mass scale to dramatically boost EV performance and address key consumer pain points. According to a consumer survey recently commissioned by Sila, nearly 90% of respondents who own or intend to purchase an EV view high-performance battery technology as more valuable than other tech enhancements or luxury features, including autonomous driving capabilities.
Graphite anodes and simple silicon compounds (Si, SiO, SiO2 ) for lithium-ion batteries have reached their energy limit, which stifles EV performance. In contrast, Sila solutions deliver the EV experience drivers want to reduce anxieties around range and charge time. For automakers who want longer range, Titan Silicon can deliver a 20% increase in range today, which could be up to 100 extra miles for some EVs, with a development runway to double those gains in future releases. Titan Silicon can also dramatically improve battery charging time, charging a battery from 10% to 80% in just 20 minutes – even if your charge time is currently as long as 60 minutes. Future releases will reduce that time to approximately 10 minutes, a standard similar to refilling a gas tank. Notably, Titan Silicon achieves these gains without sacrificing cycle life or safety while maintaining low swell, comparable to graphite anodes. And with Titan Silicon, automakers can benefit from up to a 15% reduction in battery weight and 20% increase in space, enabling higher vehicle efficiency and the addition of innovative designs and features.
"Titan Silicon is the highest performing nano-composite silicon in the market today. Our battery and materials teams are constantly iterating and improving upon our chemistry to deliver the best, and most cost-efficient results possible," said Gene Berdichevsky, co-founder and CEO of Sila. "With the wide adoption of EVs, consumers are looking for best-in-class solutions that deliver best-in-class performance, and our solutions provide just that: longer range and faster charge."
The formula used to engineer Titan Silicon powers products in-market today – in the WHOOP 4.0 fitness tracker. Since then, Sila has optimized its high-performance nano-composite silicon for mass production, which is scheduled to come online in the second half of 2024 in Sila's facility in Moses Lake, Washington. The company also hit a major scaling milestone, completing the development of new equipment for its Moses Lake facility, making the timing right to announce worldwide availability of its NCS solutions under the Titan Silicon brand. Sila plans to manufacture enough material to power one million EVs in the next five years. Last Spring, Mercedes-Benz, the company's first automotive customer, announced that it had selected Sila's NCS for its luxury electric fleet, starting with the Mercedes-Benz G-Class, due out by mid-decade.
Key features and benefits that differentiate Titan Silicon solutions from others include:

Drop-in solution: Titan Silicon anode is 100% compatible with any cell form factor (e.g., cylindrical, pouch, and prismatic) and any gigafactory.
Full or partial replacement: Only Sila offers the choice of full or partial graphite replacement based on an automaker's or cell manufacturer's performance goals and product roadmaps.
Mass produced at the highest quality: Titan Silicon solutions are manufactured in the U.S. to automotive quality standards to ensure safety and reliability at the scale needed to meet volume demands. Sila is also ISO 9001:2015 certified.
Syncs with existing supply chain: Titan Silicon can work with any co-product, which eliminates the need to change partners or operations.
Lower CO2 footprint vs. graphite: Titan Silicon generates 50-75% less CO2 per kWh than graphite during production.
US made: Today over 90% of graphite is mined and/or processed in China. Sila offers an alternative anode material source for automakers that want to meet requirements for Inflation Reduction Act tax credits.
Find Anode Market Overview white paper here.

About Sila
Founded in 2011, Sila is a next-generation battery materials company with the mission to power the world's transition to clean energy. Sila's nano-composite silicon, Titan Silicon, was engineered for mass scale and delivers industry-leading performance enhancements, powering a 20% increase in vehicle range and dramatically reducing EV charge time. Sila is the only next-gen materials company proven in-market today – powering the WHOOP 4.0 fitness tracker and others. By mid-decade, Sila's materials will also power Mercedes-Benz cars, starting with the G-Class series. Committed to American leadership in clean energy production, Sila will manufacture at global scale in its facility in Moses Lake, Washington, for which the company received a $100 million grant from the US Department of Energy.
Contacts
Yalda Rafie
SutherlandGold for Sila
Translated Press Releases:
Connect with us.
Reach out to our teams or subscribe to our newsletter.
Contact Us